The Inspired Teaching Approach
Every child, and teacher, should love coming to school.
The Inspired Teaching Approach makes that possible.
Since its founding in 1995, Center for Inspired Teaching has taught thousands of teachers and school leaders to build their practice in engagement-based education, using the 5 Rules of Inspired Teaching Improv and professional development centered on the power and importance of play. Through intensive, in-person fellowships and an array of interactive digital programs and resources, Inspired Teaching has helped to create classrooms where students solve complex problems, collaborate, and pursue continuous learning and growth — with excitement and enthusiasm.
Inspired Teachers are Instigators of Thought who center all instruction on the 4 I's: Intellect, Inquiry, Imagination, and Integrity. They build their classrooms around Five Core Elements: Mutual Respect; Student As Expert; Purpose, Persistence, and Action; Joy; and Wide-Ranging Evidence of Student Learning. Click the model below to learn more.
5 Rules of Inspired Teaching Improv
Improvisation is an essential framework for building uncertainty tolerance and teaching students to apply creative thinking to solving complex problems.
Research shows that teachers trained in the skills of improvisation are well-equipped to handle the rapidly changing nature of what's happening in schools. Better yet, classrooms steeped in an improvisational mindset foster the kinds of engagement and feelings of belonging essential to school connectedness. The 5 Rules of Inspired Teaching Improv are a teacher's guide for building a community full of play, creativity, and authentic learning. Click the model to learn more about each rule!
Download your copy of the 5 Rules of Inspired Teaching Improv here.
Inspired Teaching's inquiry-based instruction is rooted in two complementary and mutually reinforcing processes of teaching and learning: the Wonder-Experiment-Learn Cycle for students and the Observe-Plan-Instigate Cycle for teachers. Click the model below to learn more about each.
Inspired Teaching Learner & Teacher Cycles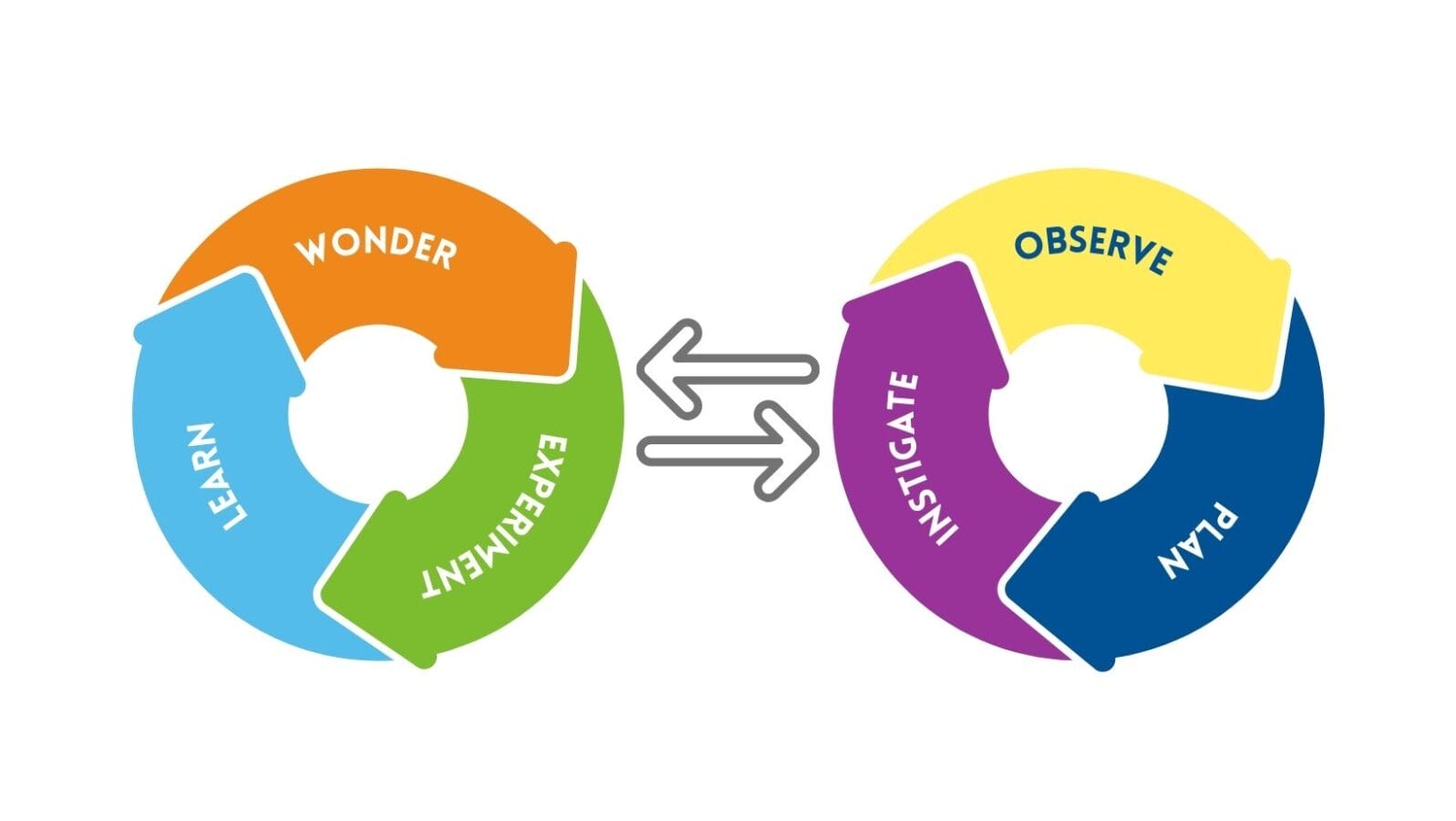 The Learner's Cycle
When they are engaged in the Wonder-Experiment-Learn Cycle, students are immersed in learning. They take the lead in designing authentic learning experiences around their own interests and their school's standards of learning. Each discovery leads to a new question which in turn leads to more wondering and more learning. In the Wonder-Experiment-Learn Cycle, Learn is not a destination or an endpoint; it is a deeper understanding, leading to a deeper wondering and new possibilities that create new entry points to further exploration. The cycle continues because what students have learned generates more wonderings that require more experiments that foster more learning – and on and on.
The Teacher's Cycle
The Observe-Plan-Instigate Cycle is the work of an Inspired Teacher. While a student is expected to follow the Wonder-Experiment-Learn Cycle, the teacher joins them on the learning journey while following their own cycle of Observe-Plan-Instigate. This cycle ultimately serves to ensure an inquiry-based atmosphere is at play in the classroom.
 Research Briefs
For nearly three decades, Center for Inspired Teaching has reinvigorated teachers and created change in the classroom. The Inspired Teaching Approach works because it is founded in extensive research and reviews of in-depth studies.
Inspiring Improvement: A tookit for evaluating and growing professional learning programs that promote engagement-based pedagogy
This toolkit contains resources for organizations who wish to undertake evaluation of their teacher training and professional development programs that promote teacher leadership, cultivate teachers as changemakers, and actively encourage engaging, student-centered instruction.
Download here
Relationship-Based Discipline
Relationship-based discipline is a student-centered approach to classroom management that relies on strong, mutually respectful, personal relationships to engage cooperation in the classroom.
Download here
Radically Reimagined Relationships: The Foundation of Engagement
This project was designed to learn about schools and school systems across the United States that are moving beyond conventional, standardized, compliance-based teaching, to create learning experiences that are student-centered and engagement-based. Through our research, we found that while these schools looked different from one another as far as location, status as public/private/charter, grade levels served, and demographics, they felt the same. This realization led to an exciting discovery: the primary element connecting these schools was a shared commitment to radically reimagined relationships between students, teachers, administrators, and families. While the schools had other elements in common, including authentic learning experiences and commitments to educational equity, we found that the commitment to strong relationships was the core element upon which all others depended. The report, which synthesizes the findings from this initiative, has exciting implications for all of us working to re-imagine education.
Download the report digest here
Being able to observe and debrief with my Inspired Teaching resident gives me an opportunity to also think through my practice in a similar way. I am constantly reflective of the work I do.