Inspired Teaching Institute
Using Improvisation to Engage All Learners
Inspired Teaching Institutes are FREE, improvisation-based professional development for teachers and school leaders. They move participants beyond passive professional learning: Inspired Teaching teaches the way people learn best – with our whole selves. 
All Institute sessions, both in-person and online, are fully interactive. Online sessions are "cameras on" and "mics unmuted" so participants can get to know and interact with one another. Participants are not going to do a lot of sitting and listening! We encourage you to sign up with colleagues to deepen learning and create space for growing ideas as a community. You are guaranteed to leave these sessions feeling energized and ready to try something new.
Certificates of completion will be provided for all participants. DC Public School teachers get PLUs through the Washington Teachers' Union for participation.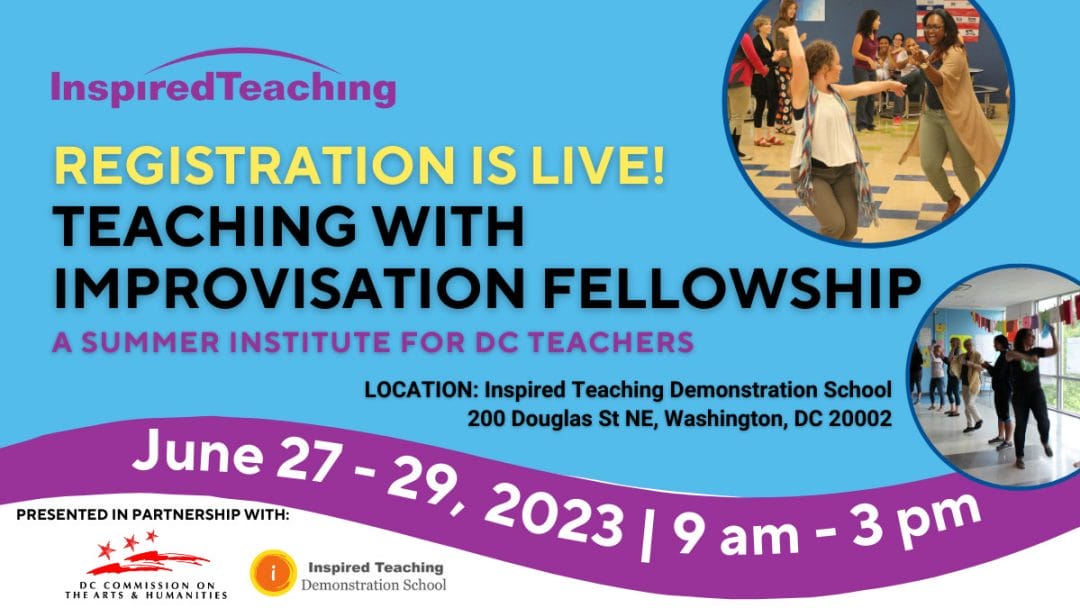 This summer Center for Inspired Teaching invites teachers of all subjects and grade levels at Washington, DC schools to an invigorating learning experience grounded in the art of improvisation and the 5 Core Elements that lead to an engagement-rich classroom. Join us June 27-29 to build creative teaching practices using improvisational techniques. Lunch will be provided daily and participants will receive a stipend. The application deadline has passed but you can still apply to be put on a waitlist. Waitlist applicants will be notified by June 1 if a spot becomes available. 
June: The Power of Reflection
Though summer beckons, and with it the space to breathe and think of something other than instruction for a bit, June is an excellent time to reflect on the year gone by so you can be better prepared for the fall. Your memory of the lessons learned is still fresh! This Inspired Teaching Institute takes a unique approach to that reflection by asking the question, "How did I know my students were learning, and what other evidence might I have collected?" Together, we will celebrate what you and your students accomplished over these many months. And, as you evaluate your assessment approaches, we will introduce you to some additional strategies for the future.
July: Planning with the End in Mind
What is it we want our students to learn in the new school year? How will we know if that learning has been accomplished? In this imaginative and engaging Institute, participants will begin with the end in mind, crafting exciting culminating projects and demonstrations of learning, then working backward to build out the instructional approach that can lead to such a conclusion. Together, we will experience what a rich assessment can look like, and then using some simple planning tools and the collective expertise of the participants, you will create your own.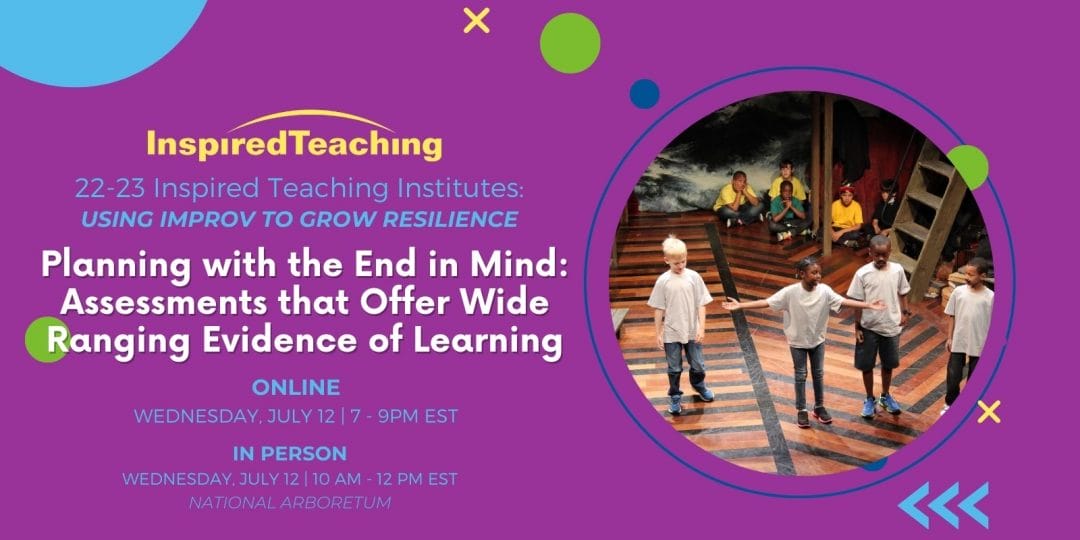 Resources from Past Institutes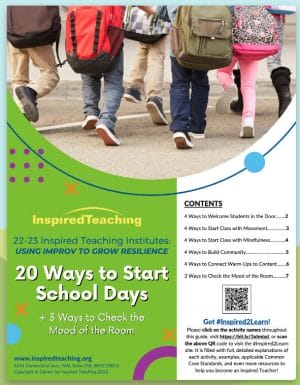 20 Ways to Start School Days
In this Institute, we explored the necessity of setting the tone and taking the temperature at the beginning of each day. This booklet includes 20 strategies for starting class with enthusiasm, from how to welcome students in the door to exercises for connecting greetings to the day's lessons.
21 Ways to End School Days
In this Institute, we explored the necessity of closing out the day in a way that reinforces what was learned while creating community and receiving feedback. This booklet includes 21 strategies for synthesizing the day's lessons, and creating excitement for tomorrow's.
Fostering Mutual Respect
In these complementary Institutes, participants learned the importance of Mutual Respect in the classroom — for nurturing student-led conversations and social-emotional learning. The Fostering Mutual Respect resource guide includes physical, mental, and emotional activities and strategies teachers can use to build trust, accountability, and engagement with their students.

Games That Build Student Expertise
We often learn best through play but play can feel at odds with all we have to "get through" in our curriculum. In this hands-on, full-body Institute, participants learned how play and instruction can go hand-in-hand, while building student expertise. When, for example, students are tasked with working collaboratively and using their bodies to demonstrate a math concept, they must rely on what they know and understand to accomplish that task. Centering their knowledge in this way builds confidence and it's also fun!

InsPIre Curiosity
What happens when we let curiosity drive our instruction? In this Institute, participants considered this question not just through the curiosity of our students, but through their own curiosity as well. Explore five different activities that can be adapted to multiple grade levels in this resource guide. From sensory explorations in science to working with manipulatives to uncover the "why" behind a given math concept, to writing prompts that inspire wonder, each of these activities offers an opportunity for questioning, experimenting, and learning. Could curiosity be the secret to engagement in this distracting and complicated world? Join us to wonder together!

Crafting Assignments with Purpose
As humans, we long to do work that is meaningful and that is just as true in school as it is in life beyond the classroom walls. In March's Institute, we challenged ourselves to take whatever content we have to teach and turn it into learning with purpose. Connecting science and social studies concepts to social action. Connecting writing and math to crafting compelling arguments for change. Using a simple lesson planning framework and a handful of adaptable Inspired Teaching strategies and activities, this Resource Guide equips you with 3 new purposeful assignments you can implement right away.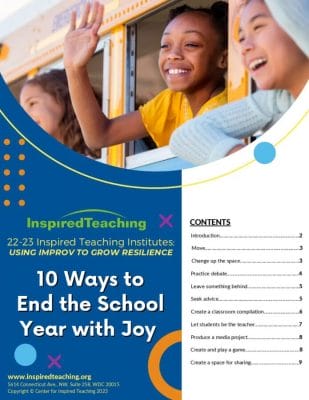 10 Ways to End the School Year with Joy
As the school year winds to a close there is joy in the completion and there is also cause for celebration in the journey. In this resource guide, participants explored 10 different year-end activities that range in duration from 10 minutes to several days. Each activity keeps the learning going and makes use of the community you've built over the course of the school year. These activities are applicable to multiple grade levels and subject areas.
Collaborative for Academic, Social, and Emotional Learning Competencies
Self-Awareness: The abilities to understand one's own emotions, thoughts, and values and how they influence behavior across contexts. This includes capacities to recognize one's strengths and limitations with a well-grounded sense of confidence and purpose.
Social awareness: The abilities to understand the perspectives of and empathize with others, including those from diverse backgrounds, cultures, and contexts. This includes the capacities to feel compassion for others, understand broader historical and social norms for behavior in different settings, and recognize family, school, and community resources and supports.
Relationship skills: The abilities to establish and maintain healthy and supportive relationships and to effectively navigate settings with diverse individuals and groups. This includes the capacities to communicate clearly, listen actively, cooperate, work collaboratively to problem solve and negotiate conflict constructively, navigate settings with differing social and cultural demands and opportunities, provide leadership, and seek or offer help when needed.
Common Core College and Career Readiness Anchor Standards for Language
Knowledge of Language:
CCSS.ELA-LITERACY.CCRA.L.3 Apply knowledge of language to understand how language functions in different contexts, to make effective choices for meaning or style, and to comprehend more fully when reading or listening.
Vocabulary Acquisition and Use:
CCSS.ELA-LITERACY.CCRA.L.4 Determine or clarify the meaning of unknown and multiple-meaning words and phrases by using context clues, analyzing meaningful word parts, and consulting general and specialized reference materials, as appropriate.
Common Core College and Career Readiness Anchor Standards for Writing
Text Types and Purposes:
CCSS.ELA-LITERACY.CCRA.W.2 Write informative/explanatory texts to examine and convey complex ideas and information clearly and accurately through the effective selection, organization, and analysis of content.
CCSS.ELA-LITERACY.CCRA.W.3 Write narratives to develop real or imagined experiences or events using effective technique, well-chosen details and well-structured event sequences.
Production and Distribution of Writing:
CCSS.ELA-LITERACY.CCRA.W.6 Use technology, including the Internet, to produce and publish writing and to interact and collaborate with others.
Research to Build and Present Knowledge:
CCSS.ELA-LITERACY.CCRA.W.7 Conduct short as well as more sustained research projects based on focused questions, demonstrating understanding of the subject under investigation.
Range of Writing:
CCSS.ELA-LITERACY.CCRA.W.10 Write routinely over extended time frames (time for research, reflection, and revision) and shorter time frames (a single sitting or a day or two) for a range of tasks, purposes, and audiences.
Common Core College and Career Readiness Anchor Standards for Speaking and Listening
Comprehension and Collaboration:
CCSS.ELA-LITERACY.CCRA.SL.1 Prepare for and participate effectively in a range of conversations and collaborations with diverse partners, building on others' ideas and expressing their own clearly and persuasively.
Presentation of Knowledge and Ideas:
CCSS.ELA-LITERACY.CCRA.SL.5 Make strategic use of digital media and visual displays of data to express information and enhance understanding of presentations.
CCSS.ELA-LITERACY.CCRA.SL.6 Adapt speech to a variety of contexts and communicative tasks, demonstrating command of formal English when indicated or appropriate.
Common Core College and Career Readiness Anchor Standards for Reading
Key Ideas and Details:
CCSS.ELA-LITERACY.CCRA.R.2 Determine central ideas or themes of a text and analyze their development; summarize the key supporting details and ideas.
Craft and Structure:
CCSS.ELA-LITERACY.CCRA.R.6 Assess how point of view or purpose shapes the content and style of a text.
Integration of Knowledge and Ideas:
CCSS.ELA-LITERACY.CCRA.R.7 Integrate and evaluate content presented in diverse media and formats, including visually and quantitatively, as well as in words.
CCSS.ELA-LITERACY.CCRA.R.9 Analyze how two or more texts address similar themes or topics in order to build knowledge or to compare the approaches the authors take.
College, Career, and Civic Life (C3) Framework for Social Studies State Standards
Dimension 1: Developing Questions and Planning Inquiries
Developing Questions and Planning Inquiries
Inspired Teaching was a great recharge for me, and it breathed new life into my curriculum and teaching practice. My most important goal as a teacher has always been getting my students to be the ones doing the thinking, so Inspired Teaching's Instigator of Thought framework really resonated with me. After Institute, I've tried to move away from any type of lecture where students are only sitting and listening, and you can see the results in my class.