The Inspired Teaching resources teachers need, all in one place.
Inspired Teaching resources are invaluable tools for creating classrooms where students are genuinely engaged with and excited about their education. The Inspired Teaching guidebooks and toolkits assist teachers and school leaders in implementing these lessons, activities, and programs. Whether you are looking for seasonal resources in preparation for Back to School or want to bring Speak Truth to your students, you'll find the materials you need below!

Making School Worth It Toolkit '22-'23
While we all wanted the pandemic to be a thing of the past as the new year began, it's still very present and certain to bring uncertainty into our schools once again. But this year we know a lot more about what we're facing than we did when this all began. We also know more about the unique needs the past two years have created for everyone in our school communities. And at Inspired Teaching we know the 5 Core Elements that have driven our work with teachers for 27 years are excellent guides for making school worth it as we forge ahead.
We made this back-to-school resource to help you start strong and we'll be here all year long to help you make it through.
Speak Truth Guidebook
Young people care about issues affecting them and the world around them. Their concerns don't always line up with the curriculum, and teachers don't always have the time, tools, or resources to explore their students' interests. Yet we know elevating youth voices is critically important not only for students' well-being, but for their development as problem-solvers and future leaders. The Speak Truth model presented in this Guide offers a way to bring meaningful student-led conversations into the classroom. Whether you host a Speak Truth session once a quarter, once a week, or every day, you will be creating a valuable space for learning where young voices and curiosity can grow.
Inspired Teaching Institute Resources
Inspired Teaching Institutes are FREE, improv-based professional development for teachers and school leaders. They move participants beyond passive professional learning: Inspired Teaching teaches the way people learn best – with our whole selves. All Institute sessions, both in-person and online, are fully interactive. Participating in an Institute is proven to reinvigorate your passion for and commitment to teaching.
We also provide participants with all the strategies, exercises, and tools needed to implement the Institute's focus in their classrooms, right away. Now, those resources are available to everyone! If you're unable to attend an Institute, or want to discover resources from past sessions, you can check them out here. 
To Share with Parents
The work we do as teachers is HARD, and summer is when parents get a little taste of the difficulty. As teachers, we have a whole toolkit of ways to deal with the challenges that arise in a typical day with a child. Most parents do not. Until now! Share our Resilient Summer Handbook, which is filled with many of the same activities and lessons Inspired Teachers use — updated with parents in mind. Creating a common language with parents for how we strengthen relationships with children and what we expect them to know and be able to do paves the way for better partnerships with families when school resumes.
 Resilient Children Handbook
For more than 27 years, Inspired Teaching has been working with teachers and school leaders to create classrooms where children thrive. Now, we're helping parents bring this approach into their home. The Resilient Children Handbook has short articles and activities parents can put to use in strengthening their relationship with their child, engaging them in meaningful tasks to help them build independence, focus, and perseverance, and setting expectations for open communication and mutual respect.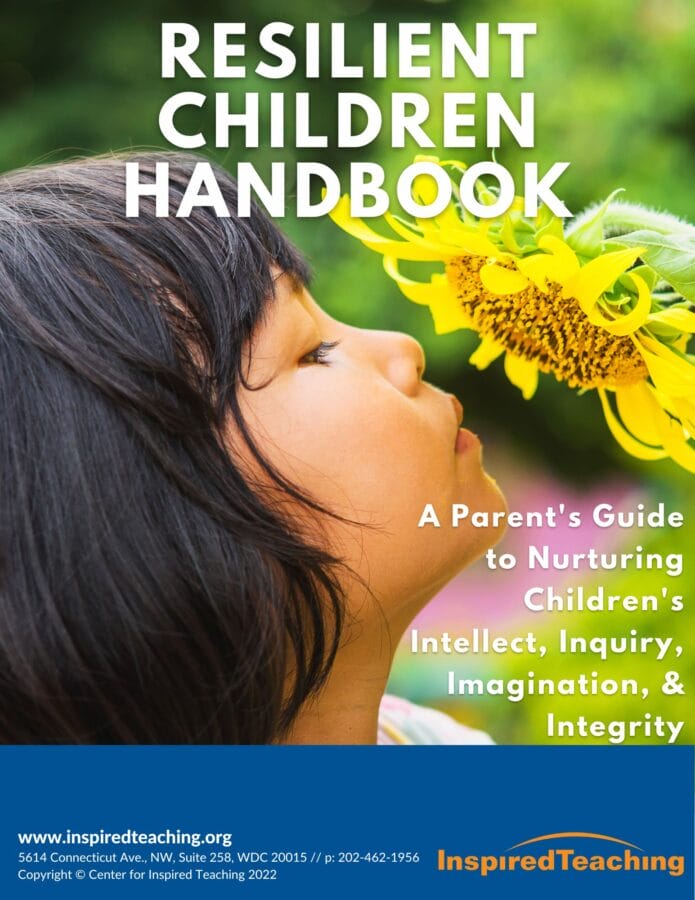 Martha Graham's 'divine dissatisfaction' can guide our reflection and remind us that, as professional learners, we can find joy in our progress while acknowledging we have more to learn.