July 10, 2023
By Aleta Margolis, Founder and President
Hooray for Monday is a weekly blog filled with questions, ideas, reflections, and actions we can all take to remodel the school experience for students.
You can now listen to Hooray for Monday on Spotify! Check out our podcast here.

Earlier this summer, Inspired Teaching launched our Teaching with Improvisation Institute, a yearlong fellowship for teachers in Washington, DC. We kicked off the program with a 3-day workshop in which teachers tiptoed, stepped, and then leaped outside of their comfort zones as they built their Intellect, Inquiry, Imagination, and Integrity — the same 4 I's they will build in their students all year long.
The program is designed to teach a core group of Teacher Leaders so that they can teach their colleagues how to put joy at the center of the school experience for children and adults alike. One of the many discoveries teachers made during this Institute is that joy and rigor are not opposites. In fact, in the best of circumstances, they flow together.
During the 3-day institute, teachers tossed imaginary balls back and forth, dragged invisible bags of rocks up invisible mountains, and built human sculptures in response to the question, "What do you long for?"
All the while, teachers were dissecting the intricate rules of each activity. They worked hard – intellectually, emotionally, and physically. After each activity, teachers brainstormed answers to the question, "What skills did you need in order to engage in this activity?" Responses included: active listening; being fully present; being ready for anything; knowing how to pivot on a dime; empathy; vocabulary skills; math calculation; understanding of geometric concepts; being prepared for the unexpected; keen observation; awareness of what's going on in all parts of the room; flexible thinking; and more.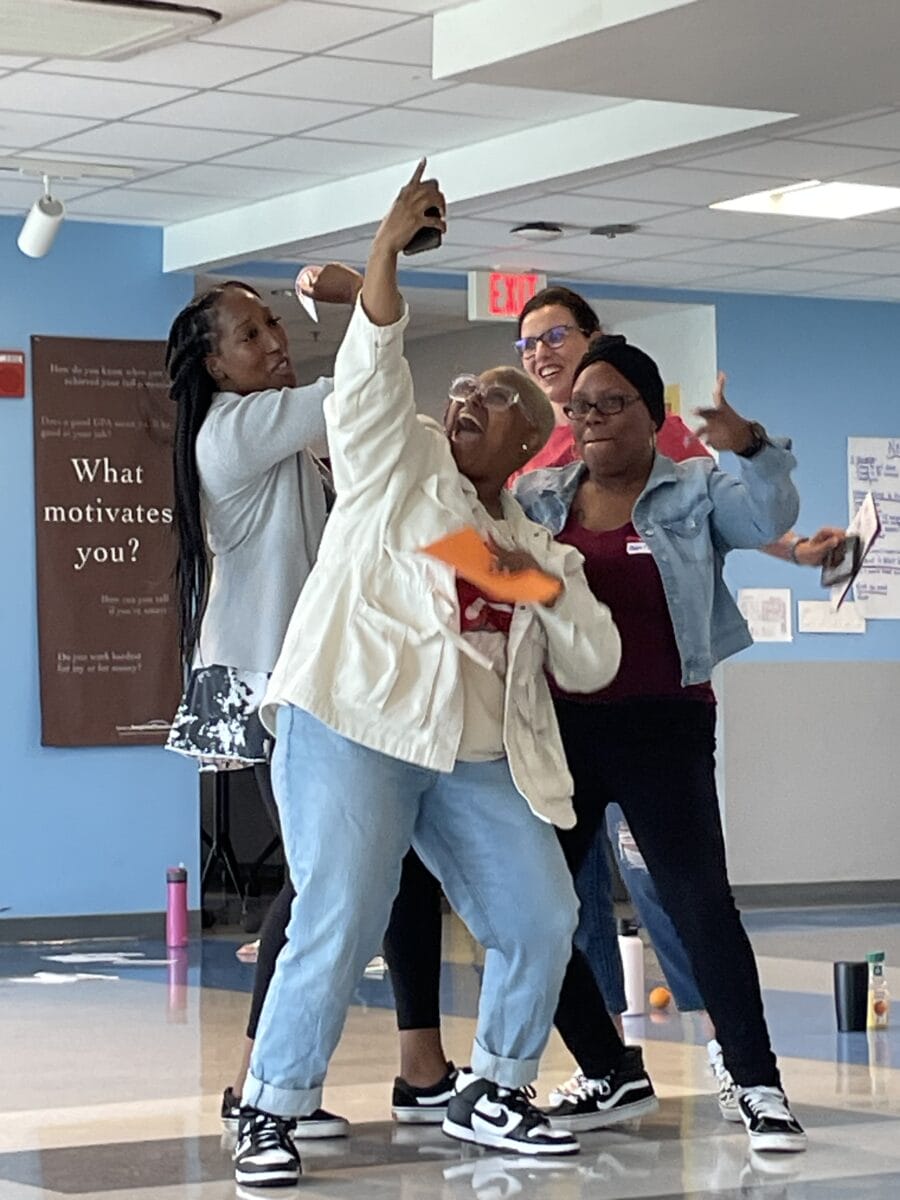 Joy, one of Inspired Teaching's 5 Core Elements, means students and teachers know they are valued, and feel a sense of belonging in school. It means students and teachers embrace an asset-based stance, and take pride in their work, including their work-in-progress. It means learners know their work is worthwhile.
Joy can be sparked by a special event – a dance performance or soccer game or camping trip. However, joy is also an important component of the everyday experience of teaching and learning. Joy can happen when a student gives something a try and experiences success. Sometimes learning doesn't come easily; sometimes students have to try and fail and try again and again as part of the learning process. As long as the focus is on process and progress, that's joy too.
According to psychologist Mihaly Csikszentmihaly, author of Flow: The Psychology of Optimal Experience:
"Enjoyment appears at the boundary between boredom and anxiety, when the challenges are just balanced with the person's capacity to act…The best moments usually occur when a person's body or mind is stretched to its limits in a voluntary effort to accomplish something difficult and worthwhile…For a child, it could be placing with trembling fingers the last block on a tower she has built, higher than any she has built so far; for a swimmer, it could be trying to beat his own record; for a violinist, mastering an intricate musical passage. For each person there are thousands of opportunities, challenges to expand ourselves."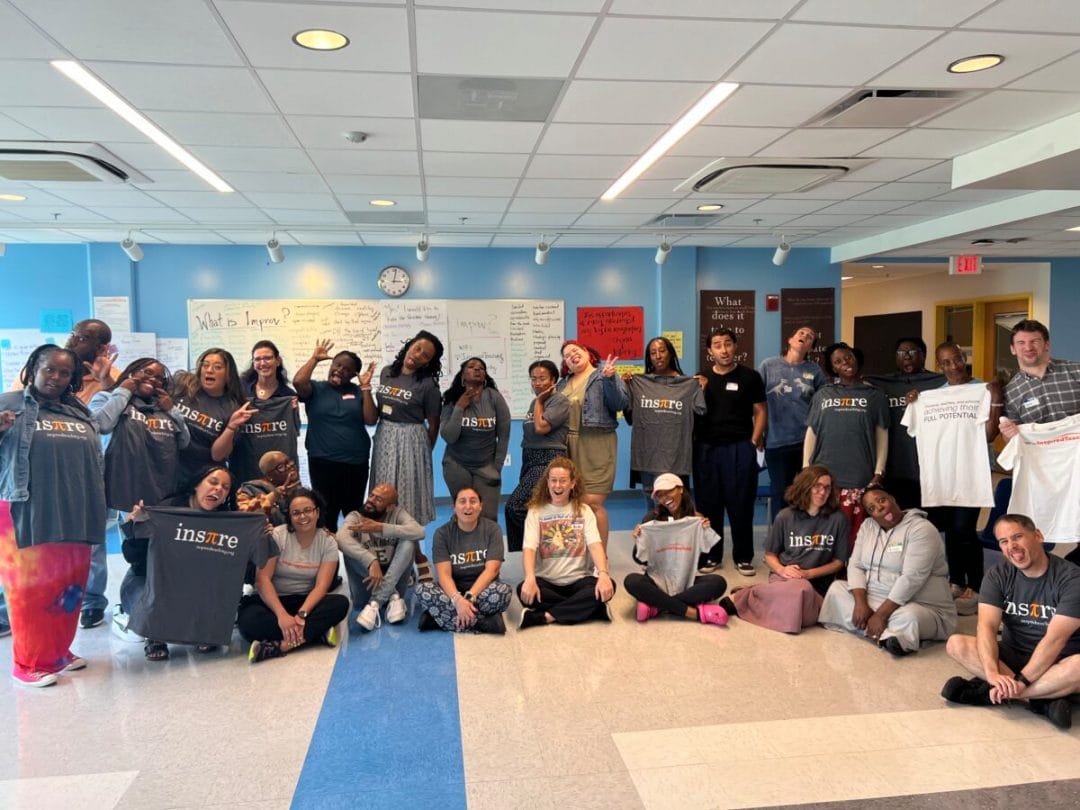 At the end of the three days, the Teacher Leaders offered reflections on their experience so far. Many spoke of the connection between joy and hard work. One teacher reflected, "You can't be joyful yesterday," pointing to the importance of being fully present for ourselves and our students, while simultaneously keeping our eyes on the goals and standards we're striving to accomplish in the future.
In the weeks and months ahead, we will be sharing with our Hooray For Monday readers many of the tools created for and by our Teaching Fellows. For now, whether you are teaching in summer school or in a year-round school, or experiencing the rest of a summer break, I wish you the joy that comes with being fully immersed in the present.
Each week a member of the Inspired Teaching community shares something that's piquing their curiosity. Maybe it will spark yours too!
How can we use new technology to strengthen communities?
Brandon Kramer, DC-based documentary filmmaker
I'm curious about technology, social media, artificial intelligence, and all of these things that currently divide us, push us away from each other, and this isolation and loneliness epidemic that we're currently going through. Can those same tools be used to bring us together and to strengthen communities and our relationships and connections to one another?
These are just tools — they're not inherently good or bad. I think now they are mostly being perpetuated in ways that are pulling us away. But what if the designers, the architects, the social scientists, and the creatives that are at the helm of this technology were instead using it to bring us closer together?
This improvisation-based activity challenges participants to be fully present – to listen attentively, to build upon their partner's contributions, to track the sequence of events in an emerging story, and to build flexible thinking. Try it this summer with a friend, and then bring it to your students in the fall.
Listen to This Issue of Hooray For Monday