November 28, 2022
By Aleta Margolis, Founder and President of Center for Inspired Teaching
Hooray for Monday is a weekly blog filled with questions, ideas, reflections, and actions we can all take to remodel the school experience for students.
You can now listen to Hooray for Monday on Spotify! Check out our podcast here.

Tomorrow is Giving Tuesday, a day when people around the country donate to organizations whose work they value. There are lots of organizations doing important work, and lots of ways to decide which organizations to support. One important criteria is impact.
How do you know if an organization is making an impact? This is the same kind of question we ask as teachers: how do we know our teaching is making an impact? We examine our practice and we examine student work. And we encourage our students to reflect on their accomplishments as well. Thoughtful teachers examine impact through reflection on work completed, with a vision toward work yet to be done. This is the way we at Inspired Teaching measure our impact too.
Our mission is to shift the norm away from compliance-based schooling, so that school is a place where every student – and every teacher – experiences authentic engagement and meaningful learning.
You receive Hooray for Monday every week, and that's an important component of the work we do to achieve our mission. Today, I want to share the bigger picture, and tell you about the work Inspired Teaching has done in the past 12 months.
Over the past year we reached more than 3,600 DC area teachers and school leaders, plus an additional 5,800 educators nationwide, through our programs and resources. These include: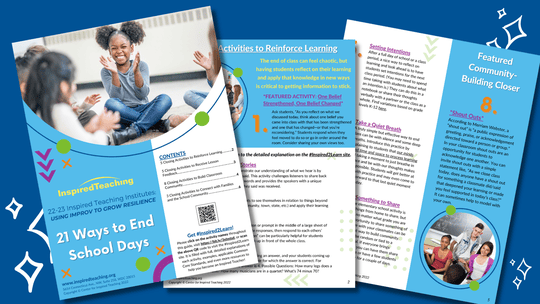 Monthly Institutes that address all facets of the Inspired Teaching instructional model, offered in-person, online, and through booklets teachers can access on their own time.
Standards-based lesson plans and activities designed to make learning more engaging and effective.
Guidebooks and Toolkits tailored to specific topics including student-led discussions and parenting with an Inspired Teaching approach.
Self-directed professional development activities designed to deepen your practice and enable you to build students' motivation and achievement.
Youth programs that model Inspired Teaching in action, including Real World History – a course that puts high school students in the role of historians.
Our programs and resources are made possible thanks to the generous support of institutional grants and individual donations. This financial support enables us to offer everything to teachers for free. We believe every teacher should have access to high quality learning that promotes their growth, just as teachers provide that high quality learning for their students. So we strive to eliminate barriers to that access. This includes making our programs and resources accessible in multiple formats (virtual, in person, asynchronous) and eliminating fees for participation.
This means every donation to Center for Inspired Teaching makes a big impact! If you value what you receive each week in Hooray For Monday, and if you are able, please consider supporting us during Giving Tuesday. Donations of every size are joyfully received, and truly make a difference.
There are many organizations in the DC area, across the country, and around the world that have an important and positive impact on our lives. I hope you're able to take time this week to support as many of those as possible.
May your week bring opportunities to reflect on the impact of your own work. We are grateful for the giving community that enables us to continue doing our work. And we're grateful to you, our teachers, for being our reason why.
Listen to This Issue of Hooray For Monday