October 4, 2018
In late September, the Inspired Teaching team and our partners at the Astra Center for Innovative Education embarked on the first school visits of the #EngagingSchools tour. After talking with dozens of schools across 15 states, about all of their amazing engagement-based education practices, we were prepared to start the next stage of our project. Our first stop was at Bronx Community Charter School (BxC), a progressive public school for students in Kindergarten through 8th grade.
A Caring School Culture at Bronx Community
The moment we entered the school, it became clear that everyone, from the security guard to the school's founder to the cafeteria workers, radiated warmth. As we found our way to the front desk, a helpful student reiterated the directions, taking care to ensure we knew exactly where we needed to go.
Our discussion with Jeannine King, Director of Student Support Services, revealed how much work goes into intentionally establishing such a warm and caring culture. BxC treats every students as individuals, when it comes to academics and discipline. From keeping the school small (only two classes per grade) to having two teachers in every classrooms, building purposeful relationships is at the heart of all that BxC does. "We work hard to know children deeply and we use all the levers we have to get to know them," King shared.
BxC begins every school year with an overnight retreat for teachers, where staff focus on building holistic relationships with their coworkers. 3rd grade teacher, Kemi Aiyedun, loves the staff talent show, where she can share her passion for African dance, and Jeannine boasts of her skills as the resident breakfast chef. This retreat sets the foundation for strong staff relationships throughout the year. The school provides formalized opportunities for relationship building, like the mentorship program for new teachers, and keeps morale high with beloved staff traditions and celebrations. BxC is a supportive place to work, and teachers bring that culture of care back into their classrooms.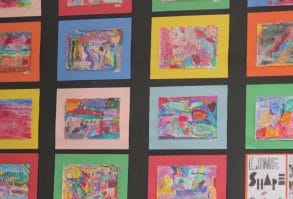 In all of the classrooms we observed, at all grade levels, the teachers established warm nurturing environments. One 6th grade teacher placed her hand comfortingly on a child's shoulder, as she read Wonder aloud. Other students lounged as they listened to the story. In first grade, Morning Meeting set the day off on the right tone with friendly greetings of "air double roller coaster high fives" and the yoga pose of the day.
As we wrapped up our first day of the #EngagingSchools tour, we were struck by the way that both the physical and emotional environment at BxC created an atmosphere for engaging teaching and learning.
A Curious & Collaborative Faculty at Harvest Collegiate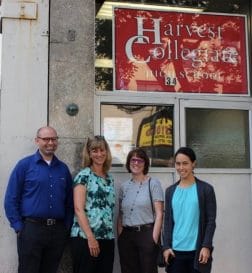 On Day 2 of the #EngagingSchools Tour, we were greeted by Steve Lazar, an alum of the Inspired Teaching Institute, and Founding Teacher of Harvest Collegiate High School. The school intentionally designs the learning experience to be enjoyable and empowering for students and teachers. It was clear that Harvest Collegiate was not your ordinary high school. Students call teachers by their first names, creating a less authoritative dynamic. The school also offers open enrollment honors courses, which results in truly heterogeneous classes.
In addition to the experiential learning taking place within and beyond school walls, Harvest Collegiate stood out for it's vibrant, dedicated staff culture. We talked with several faculty members, who raved about the strong sense of community. They agreed that the autonomy and support they received from colleagues and administration is unparalleled. When the hiring committee interviews candidates, one question they ask is – What would be your dream course to teach? This is not a hypothetical question, as teachers are encouraged to design and teach their dream courses, from Playwriting to Natural Disasters. This freedom and flexibility allows teachers to flourish. As Principal Kate Burch described, "People want to work in this kind of community. Teachers have a productive, social, intellectual network." The teachers seem to agree, as Heather Lochridge, a 17 year educator in her first year at Harvest Collegiate, echoed this sentiment, "I have been incredibly impressed by the energy here. The conversations are all about high level pedagogy. The staff is incredibly energetic and intelligent." In addition to the intellectual curiosity evident in faculty discussions, the staff is dedicated to continued professional development and growth. Many have presented at local and national conferences and four teachers are currently pursuing doctorate degrees.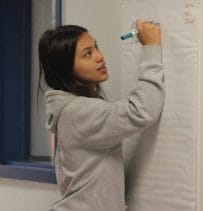 As the extremely low teacher turnover rate demonstrates, educators thrive in this environment andit enables them to share their enthusiasm for their subjects with their students. As we toured the school, we noticed students comfortably engaging with the material and teachers meeting them where they are. English students prepared for their 1920's theme Great Gatsby party. Statistics students worked in teams in the hallway, engaging in a hands-on activity. Even more traditional classroom discussions were student-centered. While discussing Lincoln's plans to repay slaveowners, a student abruptly commented, "that's stupid," but instead of viewing this as a disruption, the teacher encouraged the student to elaborate, which led to a thoughtful contribution to the discussion.
When we finished our visit, we reflected on how inspiring it was to see a school administration uplifting, valuing and empowering teachers as experts – and how that encouraged teachers to view their students as experts, as well.
The National Alliance for Engagement Based Education will continue to visit schools around the country in the coming months. To stay up to date on our findings and to join the conversation, follow  #EngagingSchools, @InspireTeach, and @AstraInnovate.