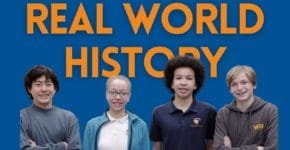 It's been a big spring semester for students in our yearlong Real World History course. This after-school credit-bearing high school course focuses on the nature of historical thinking as well as the "doing" of history. During the first semester, students study the Great Migration and its implications for those living in Washington, DC. In the second semester, students practice their emerging skills through internships at a variety of museums, archives, and historic sites and the completion of a National History Day project.
Here is what that's looked like in action over the past several weeks:
In early April, current Real World History students gave the keynote presentation on the closing day of the 2022 DC History Conference, The students showcased the oral histories of the Great Migration they compiled in the fall, exploring common themes in the experiences of the narrators as they relocated from the South to DC. Joined by narrators from this year's program as well as several from previous Real World History classes, the students did a wonderful job presenting in front of more than a hundred audience members in the Martin Luther King, Jr. Memorial Library.
Later in the month, three Real World History students presented their group project, The Good Friday Agreement, for consideration in the National History Day city-wide competition – and were awarded first place! They'll have a few weeks to incorporate feedback from the judges and then will present virtually during the National Contest in mid-June, alongside thousands of other high school students from across the country. Their project explores The Troubles and the impact the Good Friday Agreement had at the moment and on future peace agreements. It will also be eligible for a special prize in the "Irish or Irish-American History" category. 
The students have put a lot of Intellect, Inquiry, Imagination, and Integrity into preparing for these events, from in-depth research into their Great Migration narrators' lived experiences to sharpening their public speaking skills – in addition to their time interning with several DC-area cultural institutions.
Enrollment for Real World History during the 2022-2023 school year is now open! Students attending a DC public or public charter high school are welcome to apply at the link below.