July 18, 2022
By Aleta Margolis, Founder and President, Center for Inspired Teaching
Hooray for Monday is a weekly blog filled with questions, ideas, reflections, and actions we can all take to remodel the school experience for students.

I recently received an email from Susan Coti, an Inspired Teacher who taught for years in Washington, DC Public Schools and now teaches in a school she co-founded in Myanmar. Susan was visiting the Nobel Museum in Stockholm when she came across this quote from Albert Einstein. She told me it made her think of her time studying with Center for Inspired Teaching.
To me, this quote from Einstein speaks to the power of wonder. As I write this 100th issue of Hooray For Monday, I find myself reflecting on the wonder that has fueled these 100 weeks, and in fact these 27 years of Center for Inspired Teaching.
Hooray For Monday started in August of 2020 as a source of inspiration and a practical toolkit for school leaders and classroom teachers as they navigated the extraordinary challenges and uncertainties of teaching during the Covid-19 pandemic. In addition to providing much-needed support to educators, my goal with Hooray For Monday was, and continues to be, to ensure that school fuels children's sense of wonder, even during unprecedented times.
Each week my observations of the problems unfolding in classrooms and homes across the country made me wonder, kept me curious, and reinforced my long-held belief that engaging what Einstein calls the "creative imagination." It is not only how our students grow, but what enables them to thrive in the midst of the unknown. This is the vital and urgent work we must do now to advance education.
What if we – school leaders, teachers, and parents – made a commitment to prioritize teaching all of our students "to raise new questions, new possibilities" every day in every school? Einstein reminds us that it is indeed essential to know how to formulate a problem. What if school were a place where students spent as much time asking questions as answering them? This shift is critical if we want to ensure that today's students are prepared to become thoughtful, compassionate, and effective leaders tomorrow. What could possibly be more important at this moment in our history than to teach our young people "to regard old problems from a new angle"?
Most national conversations around education reform focus on how to make sure students achieve mastery of content. And indeed school should offer students multiple opportunities to prove their competence in core skills and subject areas. (In fact Wide-ranging Evidence of Learning is one of Inspired Teaching's Core Elements.) We should strive for mastery – but not at the expense of building our curiosity and imagination muscles. Our students need to develop "creative imagination" while they are mastering their times tables, state capitals, and grammar rules. As Inspired Teachers and Instigators of Thought, we are well equipped to advocate for and lead this important change in the school experience.
Think about the last time you watched a TED Talk – not because you were required to do so, but simply because you found the topic intriguing. Maybe you felt drawn to a talk about dark matter or community-led conservation in Africa or how heart transplant surgery works. As you were listening to the speakers, were you expecting yourself to master theoretical physics, or to prove your competence in conservation or heart transplant surgery? Or were you, instead, dipping your toes into something interesting and engaging your "creative imagination"?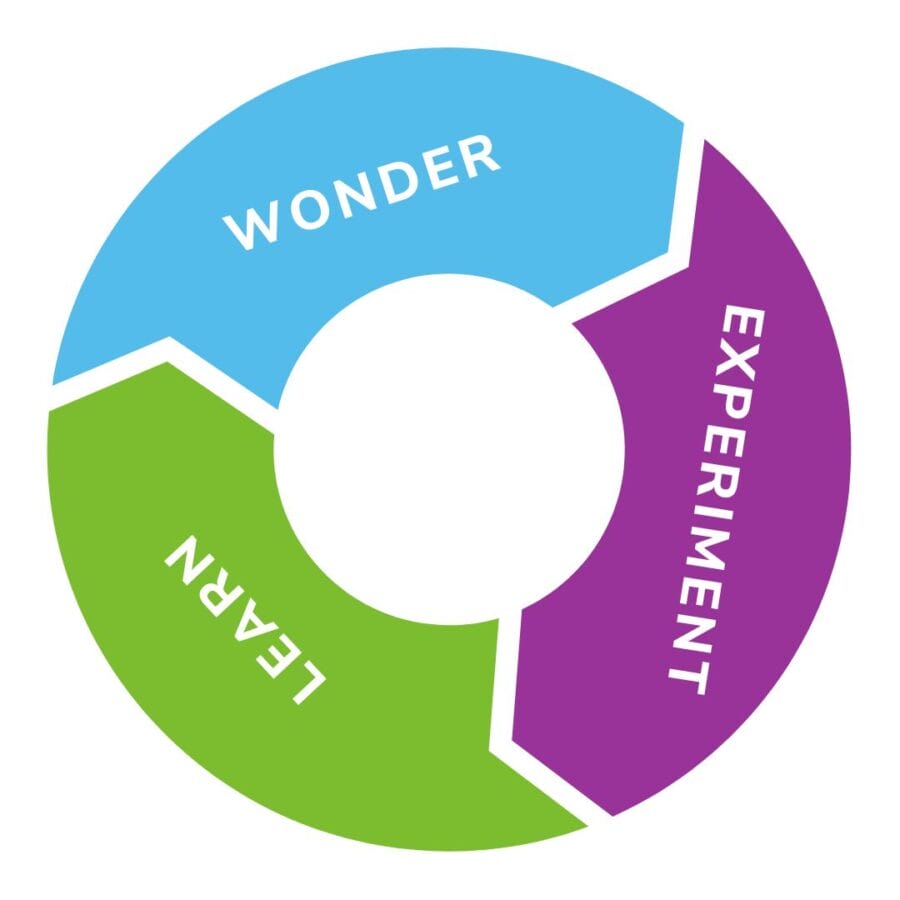 Imagine if school offered a consistent space for students — and teachers! — to wonder, to delve into issues they find fascinating, without the obligation of mastering them all.
Wonder is the starting point of Inspired Teaching's Wonder-Experiment-Learn Cycle, our approach to authentic, inquiry-based teaching and learning. I'll be writing more about this in the coming weeks.
Of course, wonder can and often does lead to mastery. In fact, I believe more students would master more content if we educators focused more energy on teaching them how to formulate questions. But the act of wondering, of formulating a question, also has tremendous value in its own right.
As Inspired Teachers, you can demonstrate – to your colleagues, parents, school leaders – what it looks like when students get to wonder. When they get to formulate their own questions. When they get to delve into an issue – a math problem, an environmental crisis, a dispute between people with opposing viewpoints, without the pressure of arriving at an immediate answer. When they get to do as Einstein suggests and "raise new questions" and "new possibilities.
I am thankful to all of you for journeying with me through these 100 weeks of wondering and for the countless ways you bring wonder into the essential work you do. I wonder what we will discover together as we keep this curiosity at the core of the work we do moving forward into week 101 and beyond!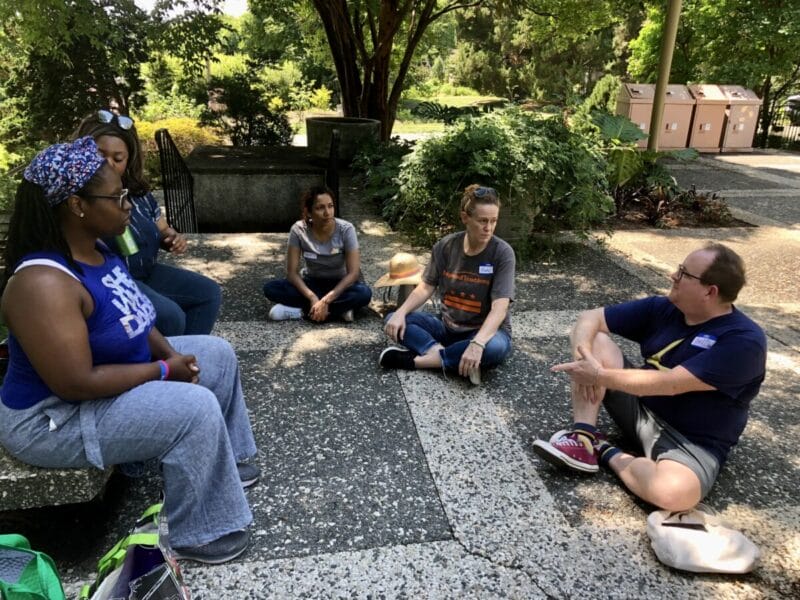 One way to wonder in the months ahead is to join us for an Inspired Teaching Institute like the teachers pictured above did last Wednesday!
Take a Sensory Walk – This can be done anywhere, for any length of time. All you have to do is go for a walk and notice what each of your senses is taking in. What do you see? What do you smell? How does the ground feel beneath your feet? What does it feel like to touch the surfaces you pass lightly with your fingers? How does smell affect your taste sensations? What do these observations make you wonder? This kind of walking can help us to focus, and bring mindfulness to our movement. Check out this resource for more ways to make walking wonder-full.
Stream Outside Your Norm – The algorithms in streaming services like to recommend things for us to watch, based on our viewing habits. But what else is out there in the vast universe of things to watch that isn't being recommended? Try choosing a show or movie you would NOT usually select and see what you discover. (Incidentally, this same exercise works with music, books, food, art… all the things with the power to surprise and delight if we let ourselves be open to them.)
Collect Stories – The same Susan Coti that Aleta mentions above is an incredible storyteller and teacher. She wrote this lovely #Inspired2Learn activity for us about gathering stories from friends and family about life during these COVID years. Your story collecting can go well beyond the pandemic, though that's a story we all share in some form. Listening and learning from the stories of others deepens our understanding of the world and strengthens our human bonds.
Be Still – A flip side to the walking described in #1 can be found in the wonder of simply sitting still. When you're still you can focus on your breathing. You can observe one thing for an extended period of time. You can let your mind wander and notice where it goes. You can feel your heartbeat slow down. Whether you meditate in the stillness or simply let yourself do nothing for a short spell, wonders abound in the quiet created during moments of rest.
Listen to This Issue of Hooray For Monday