Mary Kadera recently joined the team as Interim Executive Director. She has more than 25 years of experience in the education field and began her career as a high school teacher. Most recently, she has worked as a consultant with nonprofits including The George Lucas Educational Foundation, Learning Forward, TED, PBS and others.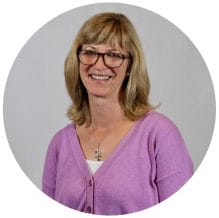 Hometown:  Springfield, VA
Education: MA in American Studies from University of Virginia; BA in Biology & English from College of William & Mary
Favorite Places in the DC area:
Mt. Vernon Trail and Teddy Roosevelt Island
Huntley Meadows park in Alexandria
Dangerously Delicious Pies (new favorite)
Why Inspired Teaching?
Teachers are the most important long-term investment strategy for our nation and our world. The work they do is a complex, creative endeavor that isn't widely understood or appreciated.  Inspired Teaching gets that, and approaches teachers with a genuine respect for their craft and a real desire to help teachers grow.
What is your role at Inspired Teaching?
In my role as Interim Executive Director, I am shepherding this wonderful organization through a time of change and rejuvenation. We're working to evolve and strengthen our programs in ways that stay true to our roots; create deeper connections with like-minded organizations; and create a sustainable foundation for growth in our future.
What was a favorite teaching moment?
One of my favorite and most painful days was the day that I managed to injure both of my ankles, in separate accidents, by 9 am.  My high school students saw me in my most vulnerable and ridiculous state and responded with kindness and patience.
Who was a teacher who inspired you?
Chuck Sane, my high school biology teacher. His love of science is completely authentic. He arranged incredible field experiences for us, held us to high expectations, and treated us like young adults. He wasn't afraid to be a real human with us.
What is something interesting you've learned in your first few weeks here?
How I could have used Wonder – Experiment – Learn and other tools of engagement-based education with my students so many years ago when I was a teacher! If only I could time-travel…