The Inspired Teaching Residency summer experiences at Capital City Public Charter School were full of laughter and meaningful learning. Both the 2018 Fellows, who are just beginning their journey as Inspired Teachers, and the 2017 Fellows, who co-taught summer school before embarking on their first years as teachers of record, grew immensely over the course of the summer.
Our newest cohort of Inspired Teaching Fellows kicked off their journey during the engaging and illuminating Summer Institute, full of exploration, learning and relationship building.
One Fellow, Asha shared how Inspired Teaching's improv-based approach differs from many traditional teacher education programs. "I went in with the idea that it would be me sitting in a traditional classroom, learning about teaching," Asha said. "On the very first day, they said 'There are no chairs in here, get comfy!' and I knew this was definitely different than I'd expected."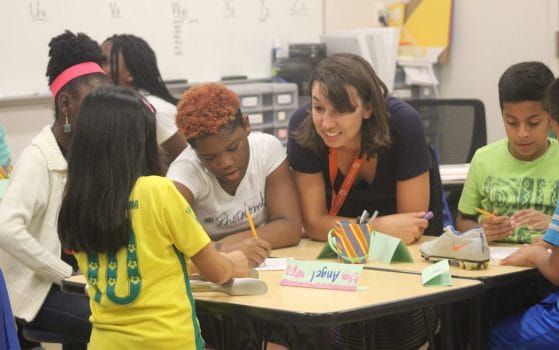 Meanwhile, the 2017 Fellows cultivated student-centered and joyful classrooms at Capital City Public Charter School. Students in each classroom were engineers and explorers as they immersed themselves in a specific theme related to STEM, ranging from construction to animal adaptations.
In Pre-K through 5th grade, each teaching team used the classroom theme to present students with a challenge and an opportunity: to create projects based on their own particular interest. Walking from room to room during the culminating Celebration of Learning, the joy was infectious as every student proudly showcased their work.
The 5th graders connected their academic pursuits to relevant current events by studying the causes of climate change and exploring ways that humans can lessen or reverse its effects. One student proudly described the prototype of his invention, Mr. Trash, a boat that retrieves trash from the ocean and deposits it into the dump.
5th grade teacher, Ms. Merriam, shared the importance of projects like these in a recent interview. "I'd like to make education more practical and applicable to students' lives," she explained. "Teachers feel really bound to the curriculum and to meeting benchmarks. While those things are valid to an extent, the standards can really pigeonhole you. This pressure can prevent you from acting on moments in the classroom that lend themselves to a great discussion. While teachers indulge in those moments, we shouldn't have to see them as an indulgence."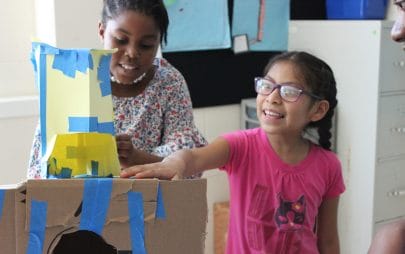 Throughout the celebration of learning, one thing was clear: students weren't completing projects for a grade or requirements; instead, they built on their own curiosity and, like true scientists, they kept digging deeper, asking new questions, and devising creative, meaningful solutions to real-world issues.
As the Inspired Teaching Fellows begin the new school year as resident teachers and as first-year teachers of record, we are excited to see how they they continue to grow as changemakers in their classrooms and beyond.